We debated whether or not to even come to Naples. We definitely wanted to visit Pompeii, but perhaps that was better handled as a sidetrip from Rome? In the end, we spent five days in and around Naples, and we're ever so glad we did. The city is grittier than our other stops, which sometimes seem almost to exist mainly for the benefit of tourists. There are plenty of sights to see in Naples, but it feels lived-in. It's a city that built right on top of ancient Roman structures, integrating them into the walls and foundations of buildings even into the 20th century. That ethos gives Naples a different energy — it belongs first of all to the modern Neapolitans, not their Greek and Roman forbears.
We stayed on Via Toledo, in between the Quartieri Spagnoli and the Centro Storico. That location put us right in a warren of lanes and back alleys. The boys were especially thrilled with the motorcycles zipping around every corner. Their parents were slightly less thrilled with the constant threat of mortal peril. Like, even on the staircases.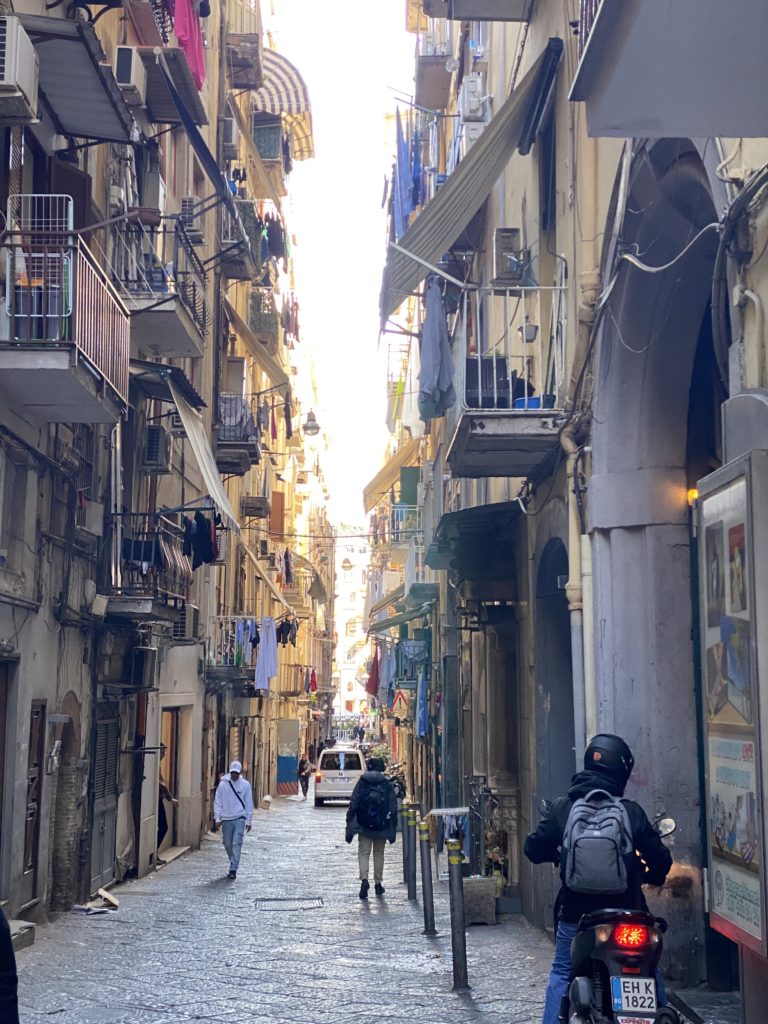 From our digs it was a short funicular ride up to the Castel Sant'Elmo. The former prison promised stunning views, and certainly delivered.
Naples is rich in museums and churches, which we mostly skipped. The kids have a limited appetite for that kind of sightseeing, so it's important to pick our spots. We did make a point to visit the Cappella Sansevero, famous for its remarkable sculptures. Photos are strictly verboten, so you'll have to take our word that the sculptures are truly incredible in their detail and realism. The smallness of the chapel also dovetailed nicely with boyish attention spans.
We did take a guided tour of subterranean Naples. Originally excavated by the Greeks for building materials, the Romans expanded it into an extensive system of cisterns and aqueducts. These were mostly filled in with concrete during a cholera epidemic, but a few have recreated. It was great fun to squeeze through small tunnels to check them out, and to see how the tunnels were used as bomb shelters during WWII.
And of course, no trip to Naples is complete without pizza. We tried a new pizzeria everyday; they were universally excellent and easy on the wallet, with most of the pizzas running €5–€8, tax and tip included.